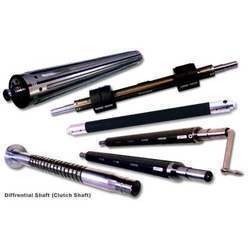 Core Shafts
Product Code : coreshafts-500x500-250x250
Product Description
Our company is one of the leading manufacturer and exporter of Differential Shaft & Clutch Shaft. These products perceive their applications in various industries. The minimum core width of these products is near about 20 millimeter. Length of these products rest upon the varied demand of our customers. The essential benefit of these products is that they are made up of brass, steel, and rubber. Available at affordable prices, these products stay in heavy demand due to their proximity in the raw materials used.

Features:
These Shafts can run even at the advanced speeds.
These are entirely capable of counterbalancing speed variation, that is caused due to gauge variation with multi cores.
Minimum 20 mm core width is able to be accomplished.
Reel holding is manageable at any position across the width.
No-time lost in re-positioning cores since no distance pieces are required
These shafts are slotted shafts and have rubber bladders, hard and ground steel cages with ball type grippers.

Sizes:

Length as per requirements.
Suitable for core ID. 3" and 6"
Capabilities:

These products manage load upto 2 tons.
Are completely suitable for core materials: Paper, Steel, Thermoplastics
Have minimum core width 20 mm.
Appropriate for Core l.D. dia 3", 4", 6", 8" (metric size and special sizes also produced)
Length as required.
Have speed upto 1000 mtrs/min.

The general materials of construction of thee products are:

Cam - Brass
Pipe - Steel
End Generals - Steel - simple or hardened
Lugs - Hardened Steel / Rubber