Industrial Silicone Rubber Roller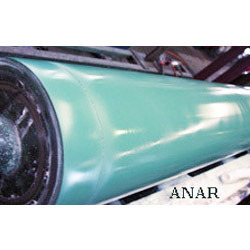 Industrial Silicone Rubber Roller
Product Description
Industrial silicon rubber roller
Specially formulated Industrial Silicon Rubber Rollers compound for the Lamination industry, Plastic industries providing an excellent temperature resistance heat with the best of its physical properties. It stands as the most ideal rubber roller for Sealing Cutting Machine, Lamination machine & more applications. It has very good productivity between re-grinding.
Specification
Minimum Order Quantity 1 Piece
Roller Diameter 80-200 mm
Roller Surface Silicone Rubber
Roller Length 300-3000 mm
Condition New
Brand Anar
Color available Orange, Red, Yellow, Blue, etc.
Technical Details